ALL ROUNDERS™ Potatoes
One Bag Does It all
Life is complicated enough without having to think about which potatoes you need to buy. Here at Bhana Family Farms, we decided to simplify potato buying and make it everyday easy. So whether you want to mash, roast, bake, chip or wedge your spuds, the potatoes in our All Rounders™ bag do it all.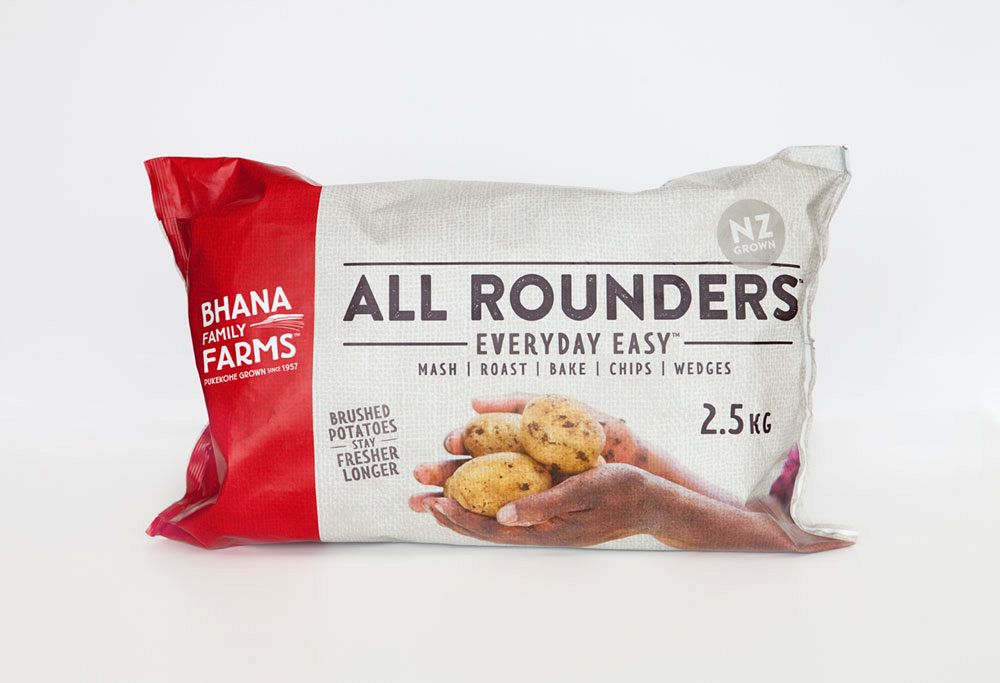 DELICIOUSNESS ALL-ROUND
Grown in the rich soils of Pukekohe, our family is proud to bring you these top quality potatoes. Tasty, filling and versatile, our All Rounders™ are delightful when roasted, mouth-watering when mashed and crisp and crunchy as chips or wedges.
Each variety of All Rounders™ potatoes is specifically chosen to be both versatile…and tasty. And because they are brushed, they'll stay fresher longer, so whenever you're ready to eat them, they'll scrub up delicious.
Why Brushed Potatoes Are Better
Brushed potatoes taste better and stay fresher longer because their natural soil barrier protects them from damage and sunlight plus helps reduce greening. They're also better for the environment as they don't use the huge quantities of water required for washed potatoes.
Nutritional Information
About
PUKEKOHE'S ALL-ROUND GROWERS
Our family has been growing potatoes and other vegetables in the fertile soils of Pukekohe for three generations. While our farms have expanded as our family has grown, our values have remained unchanged since our founding in 1957.
We believe in honest hard work, in looking after our family and customers and in being true to our word. We also believe that harvesting the fresh vegetables we have planted and grown with care, is simply the most satisfying job on earth.